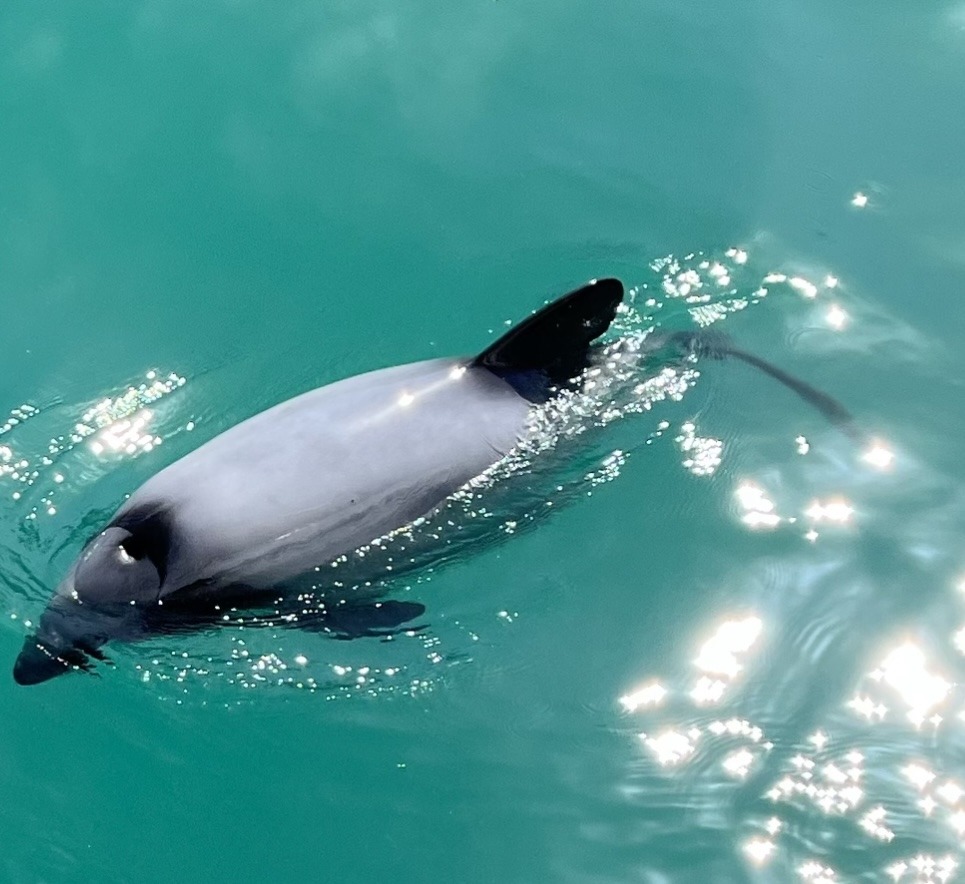 What should I bring?
You should bring sunglasses, sunscreen, a hat (with a string), and a camera with plenty of memory. The Fox II has extra coats on board if it should get cold. But you should bring a jumper or jacket. There is seating inside with a full (heated) cabin if you want to escape the weather.
Is the boat wheelchair/pram accessible ?
This is a 100-year-old sailboat, a relative level of mobility is required to board the ship. It is not wheelchair/pram accessible.
How long does the trip last?
The trip lasts approximately three hours. We will probably won't be back by the afternoon bus if you are not staying over in Akaroa. Please let us know if you have a bus to catch. Please make sure you are on an AM trip in order to catch and afternoon bus.
What wildlife will we encounter ?
Experience Akaroa Harbour's Breathtaking Wildlife Encounters ! Not only Akaroa is one of the few places in New Zealand you will encounter Hector's Dolphins, but Akaroa Harbour is also the home of Little Blue/White-flippered penguins, and New Zealand fur seals from December to May.
What sets us apart? For the past three seasons, we have seen dolphins on every trip. Our secret? Our boat's slower speed and quieter operation give us the highest success rate for dolphin spotting in Akaroa Harbour.
As we navigate the waters of Akaroa Harbour, you'll be thrilled as dolphins playfully glide alongside the Fox II. We also have the longest viewing encounters.
Respecting the wild nature of these creatures is our utmost priority. We never stop, chase, or harass the dolphins in any way.
As we use our sails whenever possible, this is one of the most eco-friendly tour in Akaroa.
Exciting news! We're now confident enough to offer our passengers a dolphin guarantee. When you choose us, we guarantee you'll see dolphins. If, by some rare chance, you don't, you're entitled to a 100% REFUND or a free trip! This unique guarantee is exclusive to us in Akaroa; no other boat can match this promise.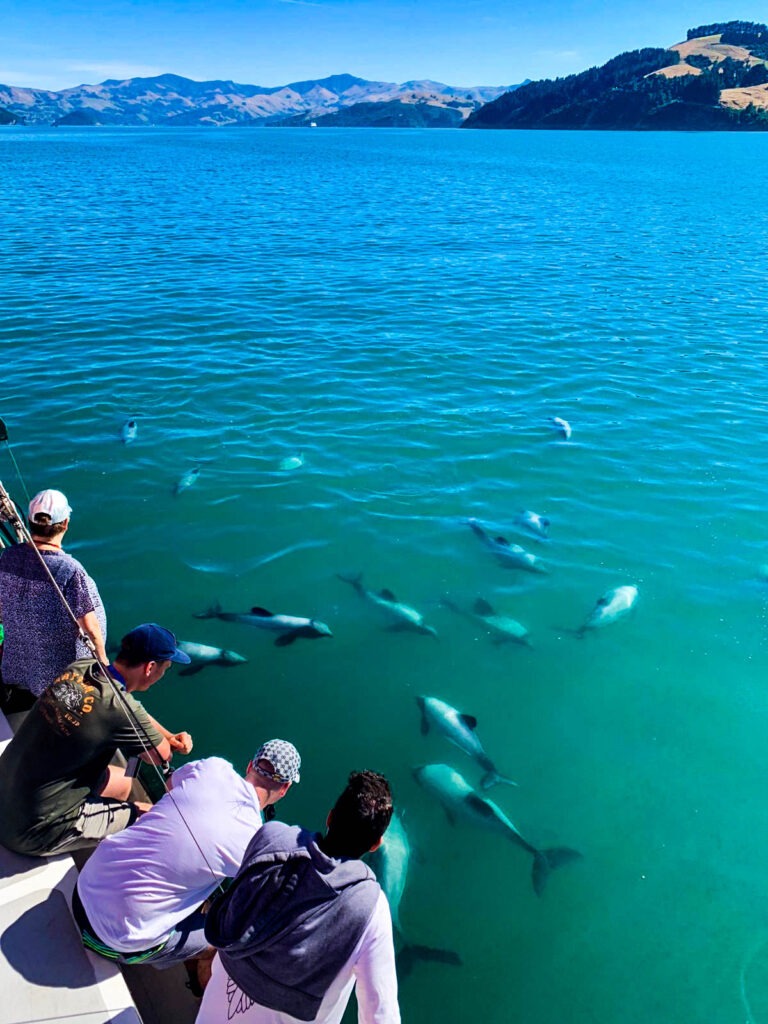 Discover Akaroa's Abundant Wildlife on Our Eco-cruise :
On each of our excursions, we guarantee sightings of New Zealand Fur Seals as we explore a seal colony just beyond Akaroa Heads. During the day, the enchanting spectacle of penguins swimming in the harbor awaits. Penguins and albatrosses are sighted on our trips on 90% of occasions. There is a myriad of birds including petrels, mollymawks, gannets, seagulls, and terns. Whales come to Akaroa once or twice a year, but it is extremely rare to see them.
Why is the Fox II an eco-tour ?
The Fox II is eco-friendly. The Fox II uses wind most of the time as opposed to the other operators who rely on diesel, which means we do not pollute as much or use up limited natural resources. We sometimes have to use the engine however it only uses 10 liters of diesel an hour. Motor boats can use as much as 100 liters per engine per trip !
By chosing the Fox II, you're being respectful of the environnement.
The Fox II is the least invasive boat to wildlife, especially for dolphin-watching in Akaroa. Because of our slower speed and quiet approach, dolphins come right up to the Fox II and even swim alongside. You will feel a part of nature when you see how they play with the boat. Other boats have an exhaust pipe at sea-level, which negatively impacts dolphins.
The Fox II is conservation minded and donates a portion of the money received for each ticket towards dolphin conservation research. The owner of the Fox II actively supports conservation efforts being made in the harbour and has petitioned to make more marine reserves and higher fishing restrictions.
What makes the Fox II special ?
The Fox II is used part of the year exclusively for a charitable trust to help Canterbury children experience sailing. We train over 1500 children from all backgrounds every year in the basics of sailing to help promote sailing to New Zealand children aged 8 to 16. The Cansail Charitable Trust has been focused on helping children with special needs as well as children from lower decile schools around Canterbury.
The Fox II is a classic gaff-rigged vessel, built in 1922 in Auckland. This boat is New Zealand's oldest working gaff-rigged ketch. It is New Zealand made from the best New Zealand boat timber, Kauri. It has authentic rigging, 2 wooden masts, 6 authentic handmade tanbark sails, real copper fastenings, and authentic wooden blocks. No winches or gears on this vessel, and it is sailed the traditional way. The Fox II is a part of New Zealand's history.
The Fox II is privately owned. The Fox II is owned and operated by an individual, not some huge corporation. The skipper has a personal stake in the business. The skipper truly cares about his passengers and wants to make sure they have the best time and service. Crew are picked by their experience and friendliness, and the Fox II has a rigid training program for crew to ensure passenger safety.
The owner is community-minded and of good character. The owner of the Fox II is involved in the Akaroa township and volunteers with different organizations and several committees. The skipper was a trained volunteer fire-fighter and ambulance crew. When he is not working on the Fox II, he is helping community members. The skipper has a true love of Akaroa and New Zealand and is knowledgeable about its history. He enjoys researching and sharing his knowledge along the journey.
The Fox II is licensed by the Department of Conservation. There are a few unlicensed operators in Akaroa Harbour. DOC does not have the resources or the time to enforce its license requirements. Part of every ticket purchased on the Fox II goes towards funding the DOC marine mammal viewing permit. This pays for DOC employees that help save endangered animals, as well as educational material and signs teaching boaters how to behave around endangered wildlife, not to mention all the conservation that DOC does around New Zealand. These unlicensed operators are sometimes charging the same or more per ticket than licensed operators. They do not pass their savings on to passengers, so it is important to make the right choice. Look for DOC approved operators.
The Fox II is affordable. The Fox II has kept the price of its tickets low in order to ensure that everyone can enjoy a trip. Trips are limited to 30 passengers, but only average about 10 to 15 per trip. We discount trips for children. There is enough comfortable seating for everyone as well. You won't be crammed in.
The Fox II is intimate and unique with some quality extras. Everyone gets to feel close to the wildlife on the Fox II. You won't be on a water bus, packed with 100 passengers on a platform 4 metres from the water. You get quality complimentary fresh brewed coffee, tea or homemade hot chocolate. You will be served some complimentary biscuits. We offer a variety of wine, beer and soft drinks at reasonable prices. You can borrow a clean/warm coat if you get cold, have free sunblock, and binoculars are available to borrow.

Tell us if it is a special occasion and we can make it even more special !
What else will we see?
As far as geography, Akaroa is the crater of an extinct volcano. The scenery is spectacular. There are 1000-foot sea cliffs, waterfalls, caves and amazing rock formations.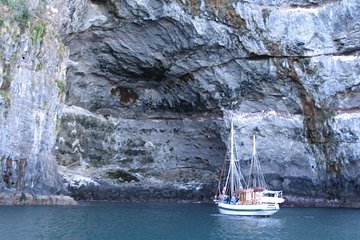 What if I get seasick?
It is rare that passengers feel seasick on the Fox II. Because of her long keel and with the wind in her sails, she cuts through the waves making for a steady enjoyable trip. Most of the trip is in the protected harbour of Akaroa, but we do venture out into the Pacific. If you should feel seasick, ginger tablets or biscuits are provided on board, which will cure about 90% of seasickness. We do not offer any prescription or pharmaceutical remedies, just natural ones.
Don't hesitate to tell the crew if you're prone to seasickness.
How many people can the boat hold ?
The Fox II is licensed to hold 30 passengers; there is enough seating for everyone. There is enough room in the cabin below decks for all passengers if necessary.
Do you actually sail or just motor around the harbour?
A typical trip includes motor sailing and real sailing (with the motor off), if the winds are right. There are 6 sails, so there is always a sheet to be pulled or a halyard to hoist if you are keen, we can even give you a go on the wheel. As we leave the heads of Akaroa, there are Easterly winds that make for an enjoyable trip. Because we have a schedule to keep and a certain amount of distance to cover we may use the motor from time to time to augment our propulsion.
TYPICAL ROUTES
Trips are planned according to tides and weather. Specifically, wind and sea conditions determine routes. Most trips go out to the end of the Akaroa Harbour and into the Pacific. Private charters and evening cruises typically stay in the inner harbour.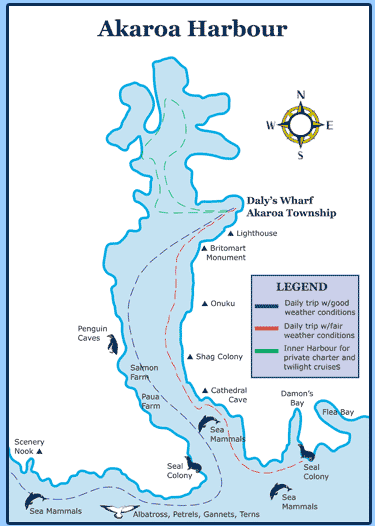 Is the Fox II Safe ?
The Fox II is safe. The Fox II has one of the highest safety ratings of any boat in the South Island. The Fox II is surveyed every year to meet the high standards of Maritime New Zealand. Rigging is checked/replaced annually, the boat hull is tested and inspected out of the water every year. The Fox II is re-painted every year, and all safety equipment is checked to make sure they are in date. Life-saving apparatus is tested and inspected. Crew are trained weekly on safety drills, and there are typically 2 to 3 crew members in addition to the skipper. The Fox II has the highest crew-to-passenger rating of any boat in the harbour. The secure/high railing and safe layout of the boat ensure that adults and children will not accidentally fall overboard. The booms on the sails are higher than the average height of a person so there is minimal chance of getting hit by the boom. The boat does not list excessively like racing boats and its long keel ensures a smooth ride.
What kind of boat is the Fox II ? The Fox II is a 101-year-old wooden gaffed rigged ketch. This is one of the oldest and most traditional styles of sailboats. Still operated and run the traditional way with block and tackle. It has 6 traditional tan-bark (red sails) and two wooden masts.
Why is the Fox II the best boat trip in Akaroa Harbour?

The Fox II is the only sailboat in Akaroa Harbour that does public charters. The Fox II is an intimate, relaxed and quiet way to see the harbour and its wildlife. It's informative, with a narration on the history of Akaroa Harbour and the wildlife. The Fox II is the closest way to experience nature and is the most environmentally friendly of all the boat trips. It is not just a sailing cruise on the harbour, it is an experience you will remember the rest of your life.